There are various type of power mobility wheelchairs and will be custom sized and fitted to each individual qualified person by our in-house staff working in conjunction with your doctor and a certified physical therapist. Please consider that the following types of chairs are only examples.
The minimum criteria for qualification for a power wheelchair are as follows, but not limited to:
A. The beneficiary has a mobility limitation that significantly impairs his/her ability to participate in one or more mobility-related activities of daily living (MRADLs) such as toileting, feeding, dressing, grooming, and bathing in customary locations in the home. A mobility limitation is one that:
Prevents the beneficiary from accomplishing an MRADL entirely, or
Places the beneficiary at reasonably determined heightened risk of morbidity or mortality secondary to the attempts to perform an MRADL; or
Prevents the beneficiary from completing an MRADL within a reasonable time frame.
B. The beneficiary's mobility limitation cannot be sufficiently resolved by the use of an appropriately fitted cane or walker.
C. The beneficiary's home provides adequate access between rooms, maneuvering space, and surfaces for use of the manual or power wheelchair that is provided.
D. Use of a wheelchair will significantly improve the beneficiary's ability to participate in MRADLs and the beneficiary will use it on a regular basis in the home.
E. The beneficiary has not expressed an unwillingness to use the wheelchair that is provided in the home.
F. The beneficiary has insufficient upper extremity function and other physical and mental capabilities needed to safely self-propel a manual wheelchair. Limitations of strength, endurance, range of motion, or coordination, presence of pain, or deformity or absence of one or both upper extremities are relevant to the assessment of upper extremity function.
Pride Jazzy Select Elite - Pride Full Size
FDA Class II medical device*
Pride's Jazzy Select Elite' In-line technology provides stability and a tight turning radius. The high-back seat with headrest and larger footplate will keep you riding in comfort. The easy to maintain design and added Jazzy Armor makes this power chair reliable and more resistant to normal wear and tear than other power wheelchairs. Charging port is easily accessible on the controller.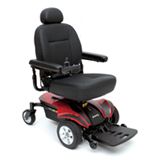 Edge® HD with iLevel!
FDA Class II Medical Device*
With standard features like 4-pole motors, Mid-Wheel 6® Design, and ATX Suspension, and optional iLevel® power adjustable seat height, the Q6 Edge® HD Power Chair is engineered to meet the performance needs of the most active user. The Q6 Edge® HD Power Wheelchair accepts a complete range of seating and electronics options to deliver exceptional rehab capability at an excellent value. Click on the "Learn More" image for more information.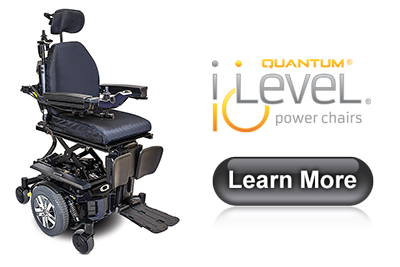 *Pride FDA Class II Medical Devices are designed to aid individuals with mobility impairments